Status of Claims Administration
Update November 2023: October 30, 2023, was the deadline to submit claims in the Second Omnibus Distribution. Since it will not cause a delay to the administration and distribution of payments, Settlement Class Members with a claim ID and PIN are still able to file a claim here. Claim IDs and PINs were sent multiple times from [email protected] (most recently on October 16th and October 23rd). Please check your spam folder. At this time, there is no fixed date as to when the portal will be closed. Do monitor this website for updates on the closure of the claim portal and distribution.
A second distribution relating to 23 actions was approved by the Ontario, British Columbia and Quebec Courts and the claims process is now open. Settlement Class Members must file a claim to be eligible for compensation.
If you received notice with login information, it is because you filed a claim in the first distribution and/or you were identified in the customer records provided by the Automakers (see FAQ 9). Using this login information when filing a claim will allow your claim to be prepopulated with your purchase information and will reduce the time required to process your claim. 
The claims deadline was October 30, 2023. If you have a claim ID and PIN, you can still file a claim here.
Who is eligible to claim?
This distribution relates to 23 cases. The affected brands and time periods vary from case to case. 
To be eligible for settlement benefits in any particular action, you must have purchased and/or leased a new passenger car, sport utility vehicle, van, and/or light truck (up to 10,000 lbs) from the applicable Automaker(s) (listed in the chart below) during the relevant period.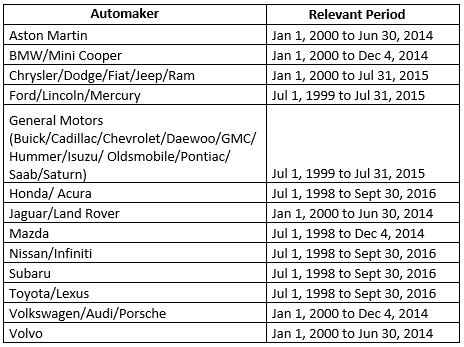 No wrongdoing is alleged against the Automakers.  They are not defendants in these class actions.
Is my vehicle being recalled?
No. The Class Action Settlements are in response to the Defendants' alleged conspiracy to fix the price of approximately 45 automotive parts, which allegedly caused Settlement Class Members to pay too much for automotive parts and eligible brand vehicles.
How much money will I receive?
Payment will be distributed on a proportional basis, based on the value of your claim relative to the value of all approved claims.  It is anticipated that all claims will receive a minimum payment of $25 per claim, NOT per vehicle.
What happens in the event of other auto parts settlements?
There will be at least one more distribution in the auto parts cases. To the extent that a future distribution relates to the same brands and years covered by this distribution, your eligibility for settlement benefits in a future distribution will depend on applying for settlement benefits in this distribution.  Subject to court order, if you do not apply for settlement benefits in this distribution, you will not be entitled to settlement benefits in a future distribution. For updates on the status of the proposed distribution of settlement funds, visit www.siskinds.com/autoparts.
Documents
Looking for more information about the class action? Please review the Documents page of the website.
Read them here