Status of Claims Administration
Update April 2021: On behalf of Settlement Class Members who elected to assign their settlement benefits to charity, the Claims Administrator has provided the charities with your contact information and requested the charities issue charitable tax receipts. You do not need to take any further action in order to apply for the charitable tax receipt.
Update April 2021: All Settlement Class Members who were unable or failed to deposit their Interac e-transfer will be reissued payment via cheque. Cheques will be mailed in May 2021.
Update March 2021: Payments to approved Settlement Class Members started March 2, 2021. Interac e-transfers were sent in batches beginning March 2, 2021 and ending March 11, 2021. All cheques were mailed on March 5, 2021.
Copy of Interac e-transfer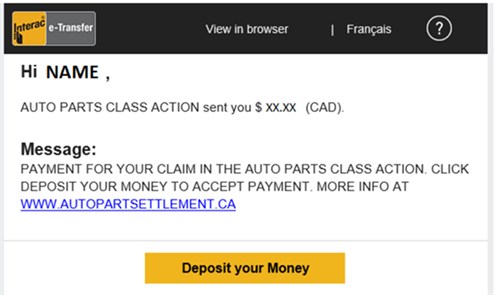 The claim deadline was June 12, 2020.
Who is eligible to claim?
You are eligible to claim if you purchased or leased eligible brands of new automotive vehicles in Canada or for import into Canada between January 1, 1999 and November 30, 2014.
The eligible brands are:
■Honda/Acura
■Nissan/Infiniti
■Toyota/Lexus
■Subaru
■Pontiac Vibe

No wrongdoing is alleged as against Honda, Nissan, Toyota, Subaru and General Motors. They are not defendants in the class actions. Honda, Nissan, Toyota, Subaru and General Motors were unaware of alleged price-fixing in respect of the Automotive Wire Harness Systems they purchased for installation in their automotive vehicles.
In filing a claim, you may rely on sales records provided by Honda, Nissan, Toyota, Subaru, or General Motors to establish your purchases. For purchases not disclosed in those sales records, you may be required to provide purchase records. You can submit a claim even if you have subsequently sold the relevant vehicle.
Is my vehicle being recalled?
No. The Wire Harness Class Action Settlements are in response to the Defendants' alleged conspiracy to fix the price of Automotive Wire Harness Systems, which allegedly caused Settlement Class Members to pay too much for automotive Wire Harness Systems and eligible brand vehicles.
How much money will I receive?
Payments will be distributed on a proportional basis, based on the value of your claim relative to the value of all approved claims. It is anticipated that all claims will receive a minimum payment of $25.
What happens in the event of other auto parts settlements?
There are approximately 40 cases ongoing in Canada regarding the alleged price-fixing of auto parts. This is the first of multiple distributions. As part of the claim form, you will be asked to consent to your information being retained by the Claims Administrator for use in future distributions. This will make it easier for you to apply for payments in those future distributions. Your personal information will not be used for any other purpose.
In addition to the Wire Harness Class Action Settlements, settlements have been reached with all defendants in Air Flow Meters, Electronic Control Units, Fan Motors, Fuel Senders, Power Window Motors and Windshield Washer Systems class actions. In each of these cases, any person who files a claim pursuant to the Automotive Wire Harness Systems Distribution Protocol will be automatically considered for eligibility and eligibility will be evaluated based on the information provided pursuant to the Automotive Wire Harness Systems Distribution Protocol.
As additional auto parts cases resolve, it is likely that some of the resolved cases will relate to the same brands and years covered by the Automotive Wire Harness case. Subject to court approval, your eligibility for settlement benefits in those cases may depend on applying for settlement benefits in the Automotive Wire Harness case. If you do not apply for settlement benefits in the Automotive Wire Harness case, you may not be entitled to settlement benefits in those cases. For updates on the status of the proposed distribution of settlement funds, visit www.siskinds.com/autoparts.
Coronavirus (COVID-19) Update
We are closely monitoring the coronavirus developments. Please note that this settlement website remains functional with the ability to file claims. The call centre is also fully operational. Check back on this page for the latest information.
Documents
Looking for more information about the class action? Please review the Documents page of the website.
Read them here